All concert pairs are on Fridays at 8 PM and repeated on Sundays at 3 PM, and they are free to the public. For venue and parking information, please click here.
Download the Concert Schedule PDF here.
---
September 21 & 23, 2018
Los Angeles Wind Octet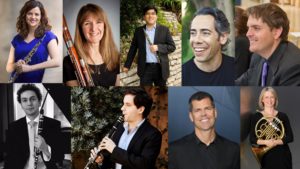 Jennifer Cullinan oboe; Ted Sugata oboe; Sérgio Coelho clarinet; Edgar David Lopez clarinet; Judith Farmer bassoon; Elliot Moreau bassoon; Amy Jo Rhine horn; Gregory Roosa horn; Steve Dress contrabass
Ibert – Cinq Pieces en Trio
Mozart – Serenade No. 12 in C Minor, KV 388.
Daniel Wood – Space Available
Beethoven – Octet in E Flat Major, Op. 103
---
October 26 & 28, 2018
Rina Dokshitsky and Henry Gronnier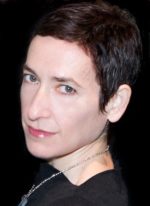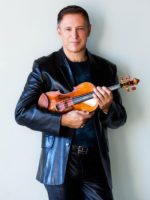 Rina Dokshitsky piano; Henry Gronnier violin
J. S. Bach – Sonata No. 3 in E Major BWV 1016
Beethoven – Sonata No. 4 for Piano and Violin in A minor, Op. 23
Franck – Sonata in A Major
---
November 30 & December 2, 2018
Thies Consort

Robert Thies piano; Roger Wilkie violin; Brian Dembow viola; Armen Ksajikian cello
Brahms – Piano Quartet No. 2 in A Major, Op. 26
Dvorak – Piano Quartet No. 2 in E Flat Major, Op. 87
---
January 18 & 20, 2019
Pasadena String Quartet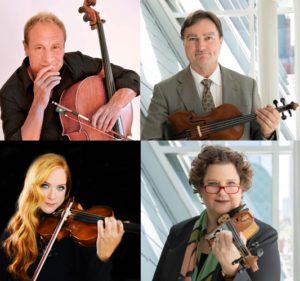 Aimee Kreston violin; Elizabeth Hedman violin; Andrew Picken viola; Andrew Cook; cello
Mozart – String Quartet No. 21 in D Major, K. 575
Debussy – String Quartet in G Minor
Tchaikovsky – String Quartet No. 1 in D Major, Op. 11
---
February 22 & 24, 2019
Joshua Ranz with the New Hollywood String Quartet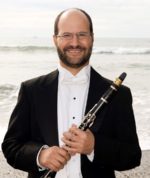 Joshua Ranz clarinet; Tereza Stanislav violin; Rafael Rishik violin; Rob Brophy viola Andrew Shulman cello
Mozart – Clarinet Quintet in A Major, K. 581
Schubert – Quartetsatz, D. 703
Brahms – Clarinet Quintet in B Minor, Op. 115
---
March 29 & 31, 2019
Musicians of the Pacific Trio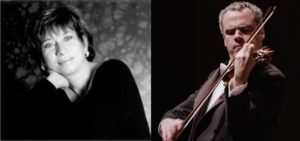 Edith Orloff, piano; Roger Wilkie, violin
Mozart – Sonata for Piano and Violin in B-flat Major, K 454
Debussy – Sonata for Violin and Piano
Arvo Pärt – Fratres
Prokofiev – Sonata for Violin and Piano D major, Op. 94 bis
---
April 26 & 28, 2019
Trio Ondine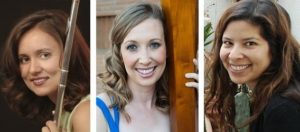 Boglárka Kiss flute; Alison Bjorkedal harp; Alma Fernandez viola
Lucas Richman – Apertif
Ravel – Sonatine
David Volpe – Gwinna
David Walther – One Triplet
Jolivet – Petite Suite
Telemann – Triosonate in G Minor
Debussy – Sonata for Flute, Viola and Harp
---